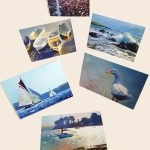 New cards available! Message me to order – they're £2.50 each or a set of 6 for £12.
Loading posts...

Jen has an 8-page article on painting Life and Movement in this month's (April/May) edition of International Artist Magazine. Available now!

I'm delighted to be featured in this month's The Artist magazine. You can order you copy by clicking here.