In my studio, I have a Mabef studio easel. My studio doesn't have a huge ceiling, so I fix two of these adjustable easel lamps above and to the side for lighting my canvas and palette.
I have a Strada midi for plein air work. It is hardwearing and you can carry a fair amount of paint in it for a solid day's work outside. I also have a U.go Tripod.
I use gesso or linen boards, unless I'm painting larger than around 70 x 50cm. Then its good quality stretched linen canvas,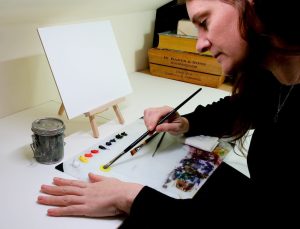 My paints are usually by Michael Harding or Winsor & Newton Artist colours – these are in my typical palette:
Titanium White 1, Bright Yellow Lake, Permanent Orange, Scarlet, Deep Purple (dioxazine), Ultramarine, Pthalo Blue (red), Pthalo Green (yellow), Sap Green.